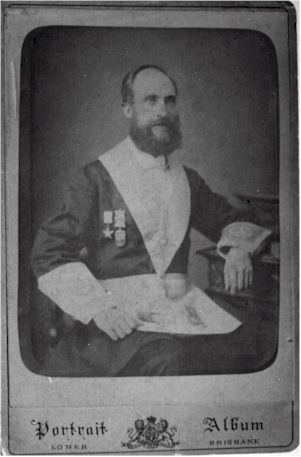 This is George Victor Le Vaux Malvineas father. The original is owned by my aunt, she inherited it
from her grandmother Margaret Little Vaugh nee Frazer. Margaret Vaugh had been a corespondent
of Malvinas. It did puzzle me for a long time but I now know where he and his family fit into the great
jigsaw, that is my family history. More details of him and his family are available via this link. The title
page to one of his books, Twin Records of Creation, can be seen here
The photo was taken in Brisbane Australia there is a note written on the back which can be seen above.
If this window was opened in a frame then click on another picture or use the back button
on your browser toolbar. The Vaugh homepage is here, genealogy here & pictures here
© Doug Vaugh, England 24 November 1999